DÓING STUDIO
"DOING - increased factory" is the new area of the Pavilion of Knowledge - Ciência Viva. It opened its doors for the first time in July 25, date of the 14th anniversary of the Pavilion, and has no date to end its activities.
Inspired by The Tinkering Studio1 of the Exploratorium of San Francisco, and with a great influence of the maker2 movement and of the do-it-yourself, culture, DOING is a factory, a sewing workshop, a prototyping studio, a track to launch great ideas...
It is not an exhibition. It is a place to create, make, experience, build and share, where the trial and error walk together, in a fun and inspiring way. There are more than 500 m2 with activities for makers, curious and engineous people, nerds and geeks, little people with much nerve and bigger ones with little foibles.
Doing is divided in two areas. The Tinkering area has open activities that make us thinking with our hands, bringing us to surround obstacles and overcome ourselves. There are various challenges: to explore electrical circuits, build paper airplanes and proof their aerodynamics, create paths to make a marble to move between two places in the fastest, slowest or any other way, and any other challenge desired by the visitor. This is a place of innovation and creativity, whose target are schools and families.
The Maker area is a place of production, where visitors can develop their own projects. To make clothes and jewelry with electric components, to print objects with 3D printers, as well as to manufacture some little gadgets are some things you can do in this area, in which ideas take shape.
In these areas, there will be regular activities and workshops, in collaboration with artists, researchers and craftsmen, combining art, science and technology.

1 The word Tinkering means to repair, handle and build through the experiencing method, in a no specialized way.
2 The maker movement takes part of the do-it-yourself, culture, interesting especially in new technologies, like robotics, electronics and digital manufacturing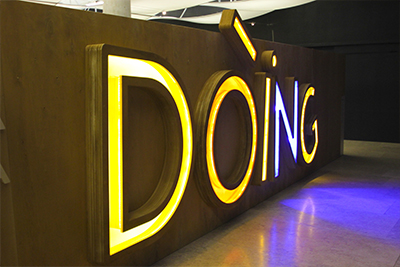 PERMANENT ACTIVITIES
Electrical Circuits
There are people who cry crocodile tears and others that think with crocodile crawl. There are ideas that sound like a pling! And others, that sound like buzz!
Use batteries, lamps, bells and switches to build every electrical circuit you want. Crocodiles do not bite!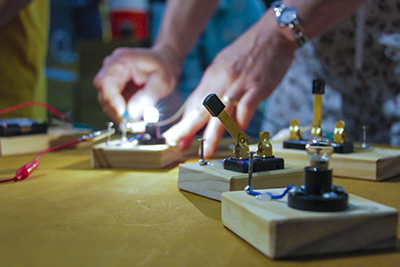 Scribbles machines
There are impulsive machines, with an artistic streak, some of them with an electrical temperament, and others with a more mechanical behavior. Schcraft, schcraft...
A scribbles machine is an engine built with clothespins, elastic and spools of thread, which moves and leaves a trail. Could you change the temperament of the artist and create works with different styles?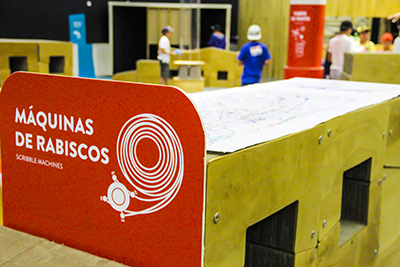 Paper airplanes
Time to take off...Closed path, loops, gliding, oops!
How far can we be creative building paper airplanes? There are many models, but there are many others that can be invented. Build a faster airplane, that planes longer, that loops more, or that falls near your feet. You choose the type of airplane you want to build.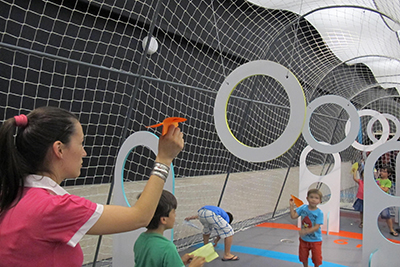 Paintings with light
Brilliant, Picasso did it!
Picasso, with a short flashlight, made drawings of light in the air and registered them with a camera of slow obturation. We replaced the camera by a digital camera, and you play the role of Picasso. The dark space is the "canvas" and there are no brushes to wash!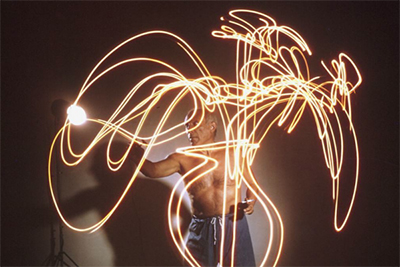 Marbles engines
Pling, poing, toong! This is like an amusement park for marbles.
Build a path for marbles, using chutes, hoppers, PVC pipes and whatever you want to and is available. What you have to do is to make the marble to move from one place to another... Try to make the marble loop, create a lift to carry the marble to the top of the plaque, or use more than one marble to have more complex chain reactions.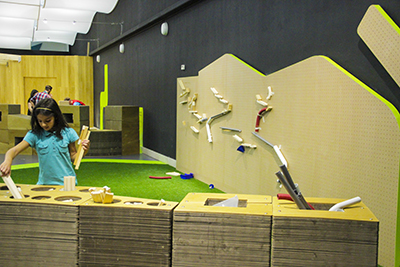 Wind pipes
Why do we like so much to see little things flying?
Create an object to float in the wind pipe, fly higher, and spin endlessly... You can use baskets of strawberries, straws, Ping-Pong balls, foam pieces, everything that can be transformed in air art.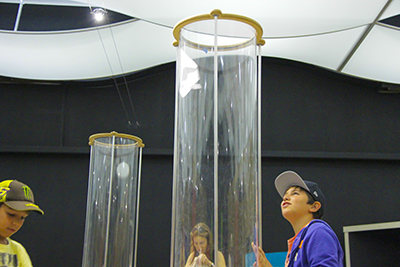 Join the Workshops and Micro-Courses
Soon:
Scribbles machines II – October 19 (4:30pm to 6:30pm)
Learn how to Weld - October 26 (4:30pm to 6pm)
Littlebits – October 27 (4:30pm to 6:30pm)
You can book on the day, in the Box-office.